Cercopis vulnerata (sanguinea)
Jassoides ou Cicadelloides

Hemiptera
Insecte de 1 cm de long, assez proche cousin de la Cigale endémique du sud-est!
Il doit son nom aux taches rouges qui ornent ses ailes! Il se plait dans les herbages pauvres et se perche sur les herbes ou certaines fleurs dont il suce la sève. Ses pattes secrètent un liquide nauséabond mais inoffensif qui dissuade les prédateurs. Cet insecte apparaît à la mi-avril en Haute Garonne et contrairement à la Cigale, il émet un son inaudible à l'oreille humaine pour attirer les femelles!
The Froghopper
It is 1 cm long. The larvae develop in a froth called "Cuckoo spit" (pic N°1) that the adults produce, providing them with thermal and moisture control. They live on grass sap. They hatched in great numbers!
Comme d'autres insectes, les larves se développent dans une mousse collante, le "Crachat de coucou" qui les préserve de la déshydratation: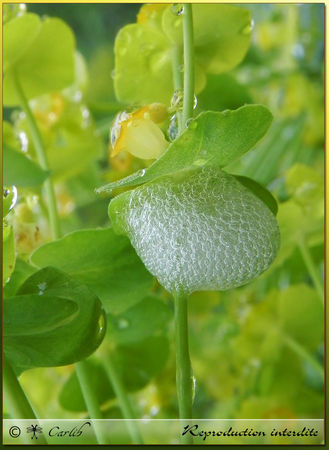 Noushka