Lacerta viridis
Reptilia, Squamata, Sauria, Lacertidae
Jeune lézards verts immatures...

Ces lézards assez communs peuvent atteindre 40 cm de long! Les mâles ont des taches bleutées sur la tête. La reproduction a lieu au printemps et l'abdomen de la femelle s'élargit considérablement avant de pondre 6 à 20 œufs dans un ou deux nids bien exposés à la chaleur.

Celui-ci était très mal placé pour la photo!
Green lizard
Quite common, they can reach up to 40 cm in length. As breeding occurs in spring, the males' head become even more blue and the female's abdomen is considerably enlarged before laying 6 to 20 eggs in one or two nests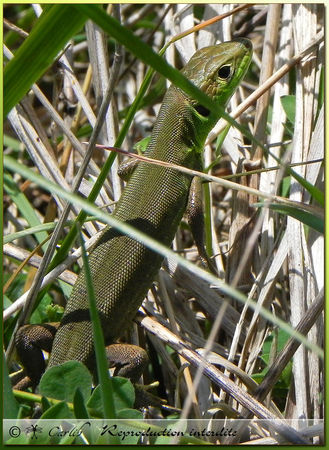 Et cet autre s'est trouvé bien surpris lorsque j'ai émergé brusquement du ruisseau dans lequel je marchais. Pensant passer inaperçu, il s'est figé et m'a laissé prendre quelques clichés! Difficile de faire semblant, de ne pas le remarquer pour lui faire plaisir, quand mon visage s'est trouvé à sa hauteur!!
This one was paralysed with fright... He wished I couldn't notice him!