Ixodida
Chelicerata, Arachnidae, Acari, Parasitiformes
avant de se planter dans la peau d'un malheureux mammifère!
Il y en a plusieurs espèces dont au moins une qui vit de préférence sur les cervidés et transmet la maladie de Lyme, borrélia burgdorphen, contagieuse pour l'Homme. Elle nous est arrivée par les USA où elles ont émergé il y a quelques dizaines d'années!
Les tiques existent depuis plus de 140 millions d'années

Here a Tick
before biting into the skin of a mammal! There are several species one of which lives preferably on dears and transmits the Lyme disease, borrelia burgdorphen, contagious for humans. It came from the States where it emerged some thirty years ago.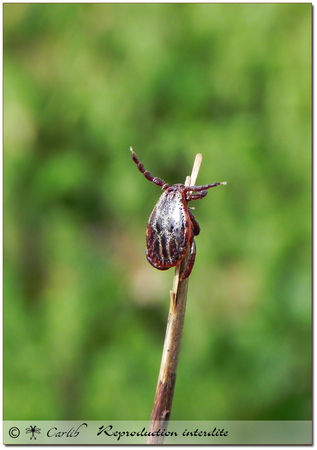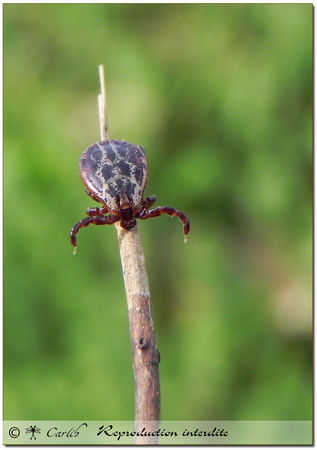 Cycle de reproduction de la Tique. Dans la plupart des cas, il est dit "triphasique":

l'

œuf

: Certaines espèces pondent un très grand nombre d'œufs.

la

larve

: n'a que 3 paires de pattes, griffues
la

nymphe

: octopode comme l'adulte mais sans orifice génital.
Wikipedia

Noushka